Sustainability Initiatives at Stokehouse Precinct
For Stokehouse Precinct sustainability is not an afterthought – it is integral to the design, construction and operation of our venue. This has been demonstrated with Stokehouse Precinct having recently achieved a 5 star 'Australian Excellence' Green Star Design & As Built Rating.
Sustainability in Design
Drinking Water Reduction
Stokehouse Precinct is committed to reducing the amount of potable (drinking) water being consumed. By installing a 30,000L rainwater tank reuse system, recycled water is used for non-drinking purposes such as landscape irrigation and toilet flushing. Efficient fittings, fixtures and equipment have been selected to ensure that water consumption is reduced where possible.
Operable Screens
Patron comfort is maximised through the installation of external operable screens at Stokehouse Restaurant. The operability of the screens means that when desired, the screens can be closed to minimise the sun glare and solar heat gain into the restaurant. The screens are made from a sustainably sourced timber, minimising their environmental impact.
Sustainable Transport
A dedicated onsite car park has been allocated to Fuel Efficient Vehicles, the space has an electric vehicle charger, all of which has been clearly labelled. This way, patrons are encouraged to take a more sustainable form of transport to visit Stokehouse Precinct.
36 bicycle parks have been provided at Stokehouse Precinct for team members and patrons use to encourage this active form of transport. End-of-trip facilities are also available for team members to promote cycling to work.
Climate Adaptation
Stokehouse Precinct not only seeks to minimise its effects on climate change, it includes adaptation measures to manage these effects.
Located directly on St Kilda Beach, the proximity of Stokehouse Precinct to the sea increases the susceptibility to sea level rise and flooding. To manage these risks Stokehouse Precinct has raised the concrete slab above minimum requirements and implemented a suitable storm water drainage system.
Passive cooling systems including natural ventilation through louvered windows, external operable timber screens and double glazing have been implemented to adapt to higher mean temperatures and more frequent extreme maximum temperatures.
Geothermal Heating and Cooling
Stokehouse Precinct features a geothermal-hybrid system to heat and cool the facility by utilising the constant temperatures of the earth underground. With 50-60m deep wells, the refrigerant is circulated through 18 units, which can heat or cool the facility depending on demand. This is more efficient than traditional HVAC systems, and shows Stokehouse Precinct's commitment to innovation.
Reclaimed Timber
Our timber flooring throughout the restaurant was milled with reclaimed Cypress Macrocarpa and Monterey Pine timber, from a farm wind break in Gippsland which was partially fallen and  coming to a life cycle end. This shows a responsible use of timber which would have gone unused otherwise.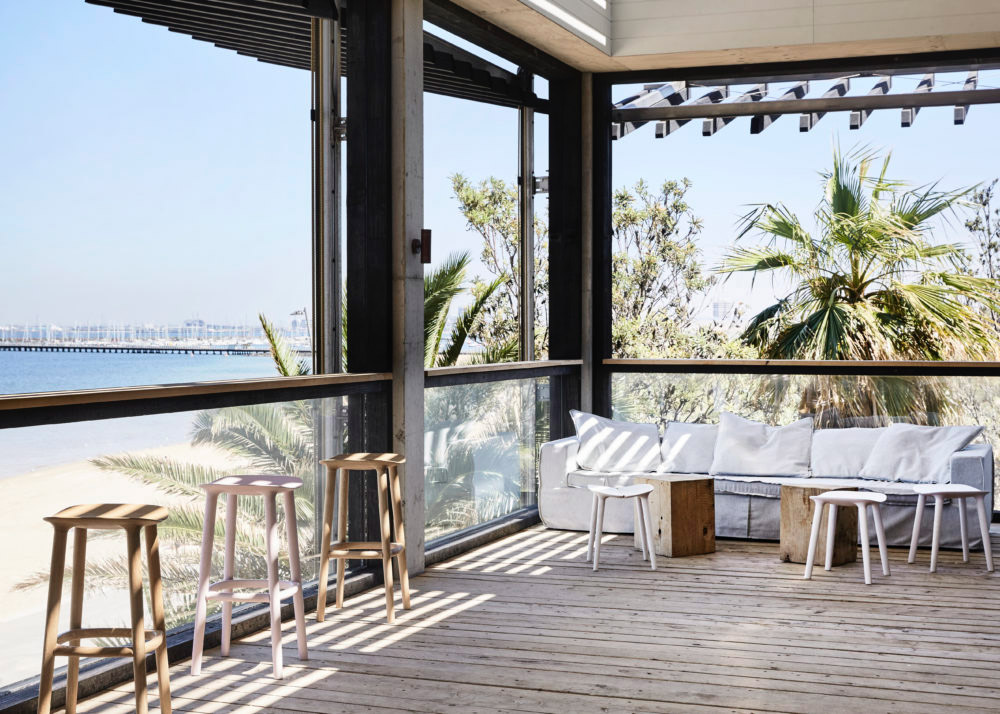 Accoya cladding was chosen for this beach restaurant as  a lighter wood than traditional Australian timbers. This resulted in savings in external fixings for the design of the large opening screen doors and dynamic louvre system which uses Accoya fins.
The Shou Sugi Ban charred Accoya was finished using a base coat of Teknos primer and a Feast Watson finish coat. Finger jointed Accoya was also selected for all the joinery and curtain walls. The charred finish eliminates the need for repainting.
The 80m3 of Accoya used in the project provides the stable and low maintenance substrate to ensure that the opening screens and dynamic louvre system perform well and maintain the lines of the impeccable design .
Accoya wood siding is 100% non-toxic and contains no biocides or harmful chemicals. Each siding panel is made from FSC® certified timber that's fully sustainable.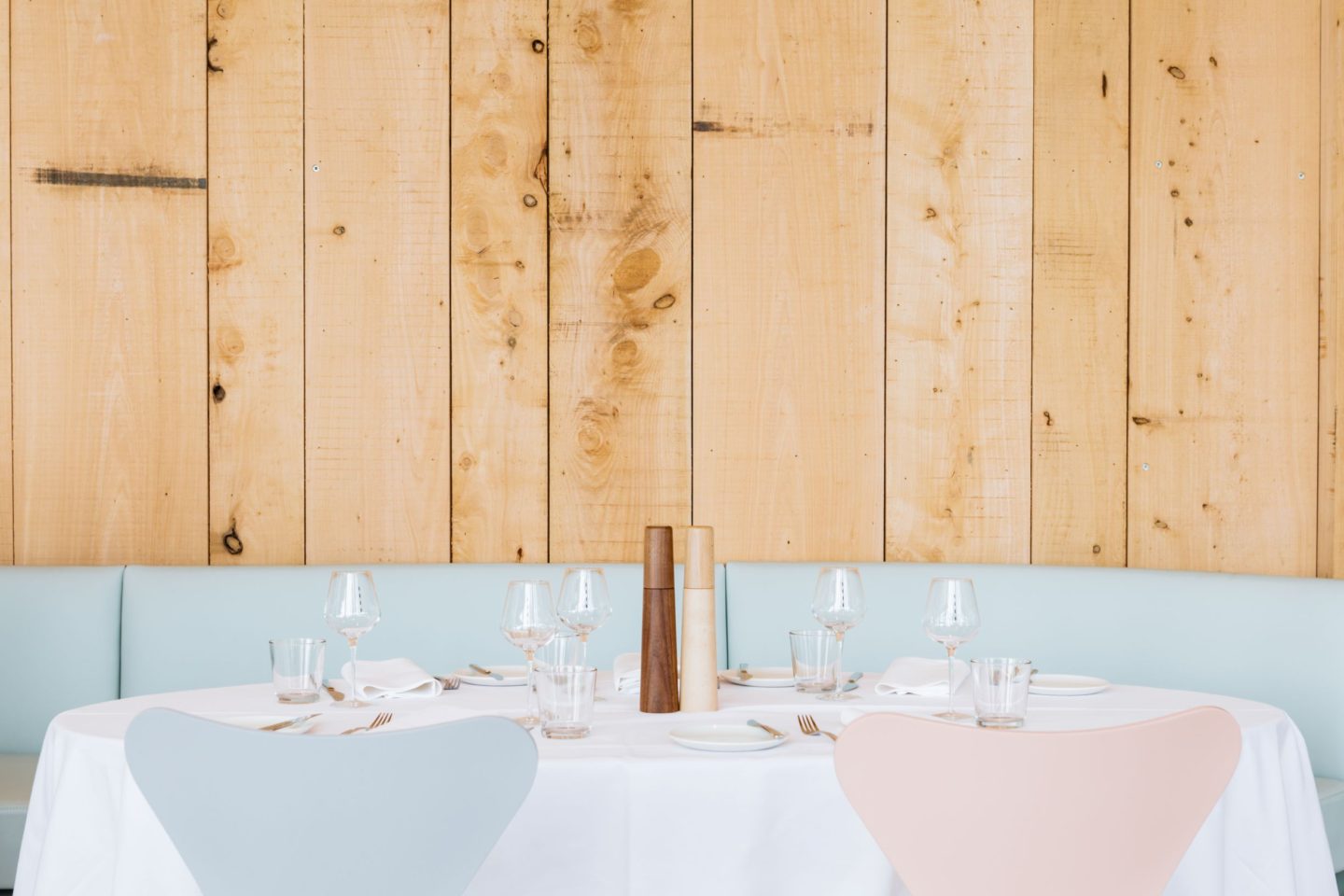 Sustainability in Construction
The Boral Envisia Concrete used in Stokehouse Precinct reduces the amount of Portland cement concrete by 65%. This results in a far lower-carbon material for the same strength as conventional concrete. Effective water recycling in the pouring of the concrete also meant that 90% of water was recaptured or reclaimed in the process.
We pride ourselves on our location, and exquisite views over the bay. Thus, large floor to ceiling glazing was essential in our architectural concept. To minimise the impact to thermal comfort and cost of heating/cooling our restaurant, we selected Solarban 60 glazing – a state of the art double-glazing panel. With low-emissivity, Solarban 60 is capable of blocking 62% of solar energy, while allowing 70% of visible light, meaning our patrons experience our beautiful Port Phillip sunsets in all their glory.
Stokehouse Precinct includes a 28kW solar system on the roof orientated east and west, to capture morning sun to help with the conditioning of the restaurant in the morning, and the evening sun when occupancy is at its peak.
A 210kWh battery system has also been included, which can store excess solar power during the day, and offset peak demand. It also provides backup power in times of outages, so even if there's an outage in the grid, Stokehouse Precinct remains operable.
Sustainability in our Operations
Local Food Procurement
With many supply arrangements with local producers, and a commitment to quality local produce, Stokehouse Precinct is effective in reducing the food miles of its produce.
Most restaurants operate as follows: growers deliver to wholesalers at the market, the market then sells to a retailer, and the retailer delivers to the restaurant. By going to the farms directly, two legs of the supply chain are cut out. This reduces truck and delivery movements, and results in fresher food for the customers.
To this end, the Stokehouse Precinct has formally committed to maintaining or improving on the following stipulated benchmarks for local procurement of food and beverages for at least 10 years of operation:
10-20% of produce sourced from local Victorian organic farmers.
70% of produce sourced from farmers within Victoria and 100% from within Australia.
100% of seafood sourced from within Australia with 40-50% sourced from within the Port Phillip Bay Area.
100% of house beer is Australian
 Local Hiring Policy
Stokehouse Precinct understands that commuting to and from work constitutes a large component of carbon emissions – particularly in a large city such as Melbourne. Thus, our hiring policy prefers candidates who can demonstrate that they live in close proximity to our restaurant. We are easily accessible through public transport routes, and have frontage to the St Kilda Foreshore for those who wish to walk/cycle to work, with end of trip facilities (bike hoops, showers and staff lockers) provided. During our operations in 2019, 50% of staff were within 5km of the restaurant, and over 80% within 10km.
Waste Management
The Stokehouse Precinct waste management system is cutting edge, with a range of innovating technologies and procedures to maximise the amount of reuse, and development of a circular economy:
ORCA Biodigester Unit
The ORCA aerobic biodigester unit is used for processing of food waste. The biodigester functions like a stomach and is able to break down organic food extremely effectively. There is very little residual, with the primary output being wastewater which can be diverted through the wastewater onsite. This reduces the amount of waste to landfill considerably, and in turn, reduces the production of methane at the landfill when anaerobic composting occurs.
The biodigester has been able to divert the following amounts of food from landfill in 2020/2021:
November:         1,389kg
December:         1,850kg
January:             1,601kg
The significant increase in food waste processed from October is due to an upgrade of the biodigester unit from the OG15 to OG25, which is capable of processing 11kg of food per hour.
WastePac Glass Crusher
An on-site glass crusher has been installed. This reduces glass bottles to a granulated form. The granules are then stored in a bin for collection for re-processing.
WastePac 75 Cardboard Baler
A WastePac 75 cardboard baler has been installed to enable a space-efficient means by which cardboard boxes can be compressed and baled for easy collection for recycling.
Cookers Oil Holding Tank
The use of exchangeable cooking oil holding tanks, ensures that no cooking oil enters the waste stream.
The trucks which bring fresh oil to the site first collect the used oil, and processes this into biodiesel. The truck is capable of collecting the used oil, and fresh oil is pumped in. This reduces the OHS risks for staff in the kitchen, removing the need to transport oil around the kitchen on a trolley.
The Nature Conservancy is driven by a vision to restore reefs back in Port Phillip Bay, as half of the bay used to be filled with oyster and mussel reefs. They do this by collecting empty oysters from restaurants across Melbourne, drying and cleaning them over a six month period, and then building a base with limestone for a new reef, which they seed with flat oysters and blue mussels.
2.5ha reef has been restored from the work of Shuck Don't Chuck. 60-85% of seeded oysters are surviving on the seeded reef, and are now reproducing. They will work as bio filters cleaning up the water quality in Port Phillip Bay and bringing back reefs to the bay.
To date in 2023, over 12,344kg of shells have been collected from Stokehouse Precinct.
E-water
The electrolysed oxidising water system at Stokehouse Precinct replaces chemicals used for cleaning and food preparation, with simply salt, water and electricity.  It reduces the need for hundreds of single use plastic bottles, and diverts 300L of chemicals from going down the drain each month. This has numerous environmental benefits, and when installed in 2015 was one of the first in the industry to adopt this technology.
Printer cartridges
The e-waste from print cartridges are collected when new ones are delivered, to provide a complete closed loop in the operation of the printer system.
Shred it
Shred it is a secure document recycling machine which itself is made from recycled materials. It ensures the secure shredding and disposal of sensitive information, while also guaranteeing that the paper will be recycled in a secure manner.
Supplier Waste Reduction
Clamms Seafood have changed their business practises to not supply fish in polystyrene . Stokehouse Precinct has sought to change industry practises wherever possible and have seen ripple effects in the entire supply chain as a drive towards sustainability and the use of sustainable packaging.