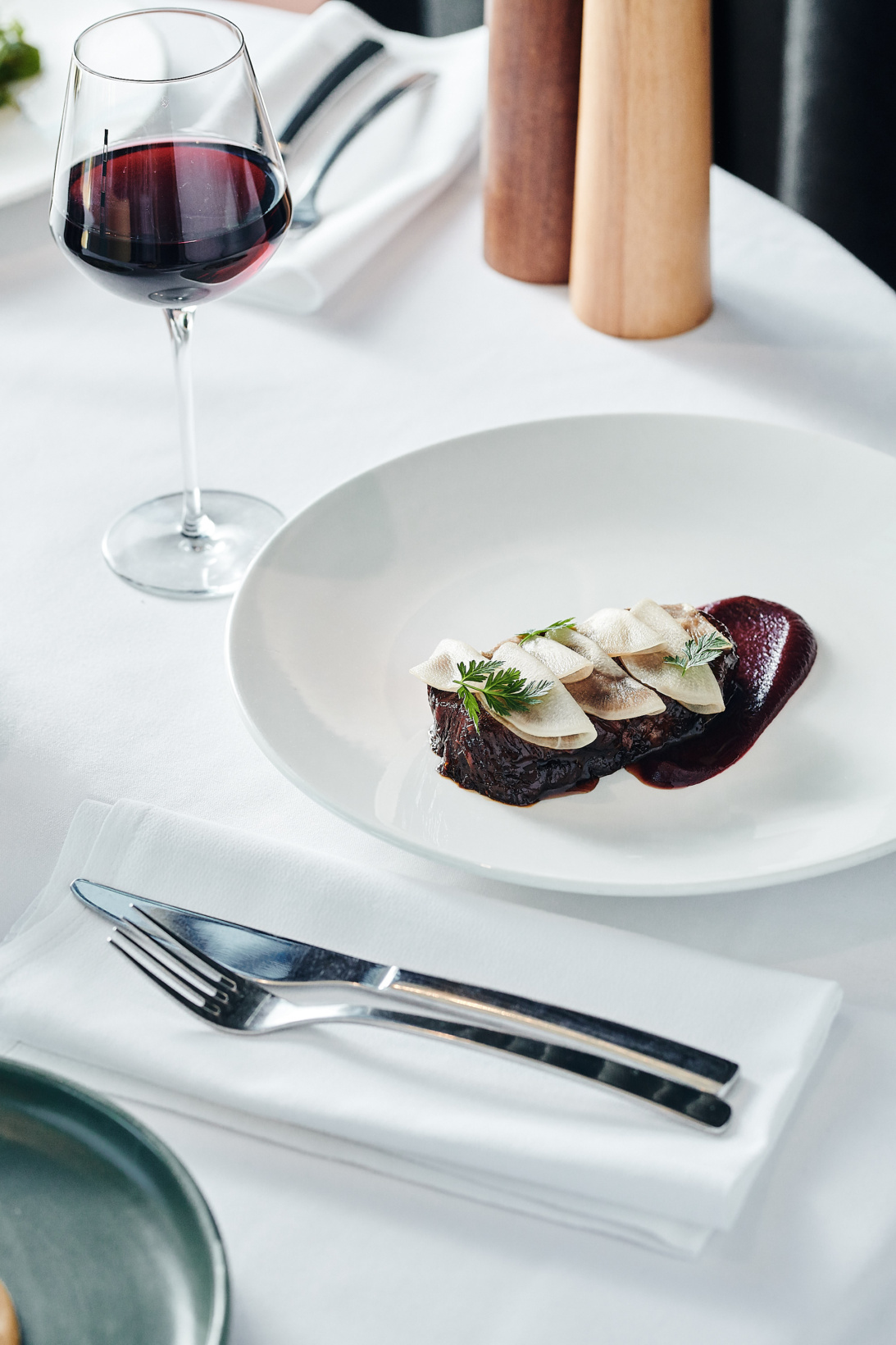 Curated by Head Chef Ollie Hansford to reflect the season and its stunning produce, our winter menu seamlessly integrates Stokehouse signatures; seared tuna, wasabi cream, sesame and soy; King Prawn taco, avocado and kale; King George Whiting, triple cooked chips, seaweed salt; with richer, darker flavours to accompany the colder days, longed-for glimpses of sun, and stormy nights.
Start with the fried chicken and caviar – confit chicken leg rolled in a classic southern fried chicken spice mix, with fresh mayonnaise and succulent caviar; or the black pudding roll – black pudding wrapped in a layer of crispy thin white bread and topped with our red cabbage ketchup infused with spices such as cinnamon, star anise and clove. Move on to the mushroom risotto served with crispy chestnut chips and pickled onion; Pork Scotch with quince, pickled lentils and mustard; or the Bass Straight Sirloin – grilled to order then topped with our Bois Boudran sauce featuring shallots, tomatoes, Worcestershire sauce and beef jus. Sides include sautéed Brussel sprouts with smoked ham hock and pickled raisins; grilled pumpkin with puffed pepitas, smoked curd and sherry dressing.
Group Sommelier Gavin Cremming has refreshed the Stokehouse wine list with carefully considered wines by the glass selected to work harmoniously with the seasonal flavours of the kitchen. Try a New World Riesling from Franklin Estate alongside an Old World German Riesling from the benchmark producer Dr Loosen; transition from Pinot Grigio to the textural Italian varietal Verdicchio; sample one of two white biodynamic wines by the glass – one more traditional in flavour, the other with a spicy green herbal note. Reds by the glass include the Austrian varietal Sankt Laurent – with body, depth and a sense of earth; a Grenache blend from the Southern Rhone in France; and a Fontalpino Chianti showcasing lifted florals with the classic Italian tannin grip. There's a glass or bottle to perfectly match every dish on the new menu and to suit every taste.