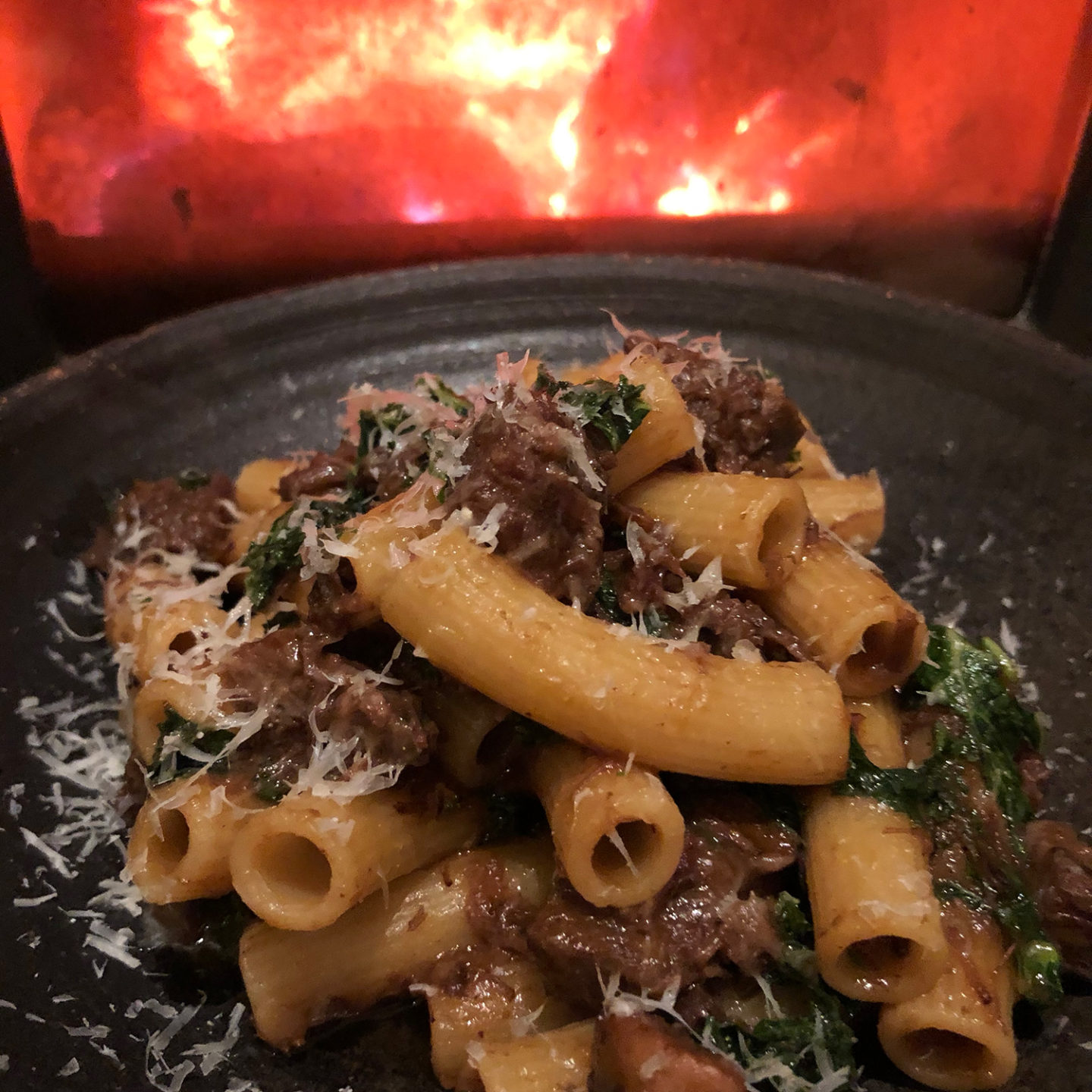 Serves 4-6 people
800g beef cheek – they are around 350-400g each
2 medium onions, diced 2cm by 2cm
1 medium carrot, diced 2cm by 2cm
1 bunch Tuscan kale, leaves removed and chopped
300g button mushrooms, quartered
2 cloves garlic, crushed
2 bay leaves
2 sprigs thyme
400ml red wine – any varietal of red wine will work
30ml fish sauce (this helps with fullness of flavour, I like squid brand for this)
30ml English mustard
200ml stock (Chicken or beef is fine – I had some leftover stock from soup)
400g rigatonicini pasta (penne, or rigatoni also works – I just like the smaller pasta to hold the sauce)
40ml vegetable oil
30ml red wine vinegar
Preheat oven to 160C.
Season the beef cheeks quite generously with salt and pepper and sear in a heavy based, oven safe dish until brown.
Remove the cheeks from the dish and set aside. Into the dish add carrot, onion, garlic and mushroom, and fry for cook 3 mins or until flavours have been released.
Add the wine and bring to boil for 2 mins. Make sure you scrape the bottom of the pan to get all the good flavour into the sauce.
Add the mustard, thyme, bay leaf, fish sauce, stock and beef cheeks to the pan, bring to boil then cover with approx. 200ml of water and bring back to a simmer.
Cover with the lid, and place in oven for 2.5 hours or until the beef cheeks are completely cooked. Use a skewer to check your beef – if the skewer pierces the beef with no resistance, the beef is cooked.
Once cooked, remove from the oven and cool the dish to room temperature.
After cooling, remove the beef cheeks from the dish and strain liquid into a saucepan. Bring the liquid to a boil and reduce until thickened – approx. 30-45 mins.
Once the sauce is reduced, cut the beef cheek into small pieces and add alongside vegetable into. Add chopped Tuscan kale, red wine vinegar and seasoning, to taste.
For your pasta, bring a pot of salted water to boil and cook pasta to el dente – approx. 10-12 mins for rigatoncini
Drain pasta and add to sauce. You can adjust the sauce consistency by adding a small amount of pasta water.
Cooking pasta in the sauce for 1-2min so the pasta collects the sauce flavours.
Serve and finish with either parmesan or pecorino cheese.